Over half of UK SMEs say that the alternative finance space has opened up new opportunities to raise finance according to some new research by the peer-to-peer bond auction platform UK Bond Network.
The survey also revealed that 68% would consider using alternative routes to raise capital – a figure that rises to 94% among companies with annual revenue over £1.1m.
"Alternative finance is moving into the mainstream," says Christopher Maule, CEO and founder of UK Bond Network.
"It's providing small and medium sized enterprises with new funding options and democratising the business financing landscape. In contrast to banks, alternative finance platforms offer business borrowers fast, flexible and simple access to finance – making them an attractive and increasingly popular choice."
Despite the promising figures above, the alternative finance space still has a little way to go before it gets to where it wants to be with 42% of respondents who's revenue equals to or less than £1 million still unaware of the different opportunities. This number drops to 15% for businesses with revenue of £1.1 million or over.
"Looking at the survey results, there's a clear correlation between understanding alternative finance and willingness to use it," comments Maule.
"With this being the case, improving knowledge of alternative finance will be critical for increasing its uptake. While demonstrating its benefits to business owners themselves will be important, increasing understanding among accountants and professional advisors – the bodies SMEs trust – will be critical if the sector is to reach its full potential to support SME growth."
CreditSquare's UK SME Credit Indices for Q4 was also released yesterday and the signs were not great with the supply of credit during the quarter declining at its largest since the index began. This comes after 7 straight quarters of positive or near-neutral readings for credit supply. Credit supply now sits at 38.9.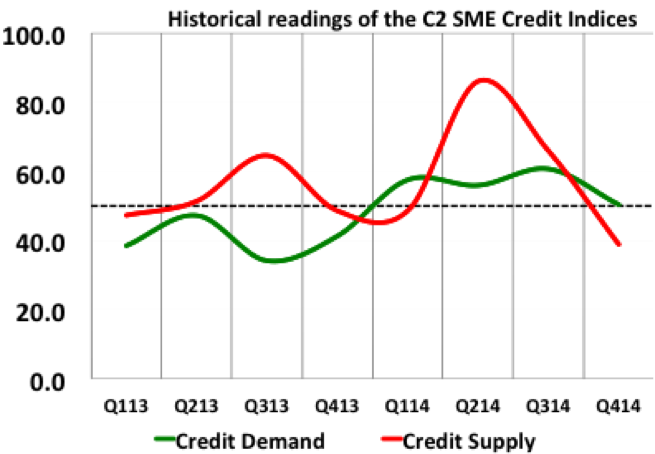 The research by CreditSquare also revealed that here was a sharp decrease in the proportion of SME borrowers who feel satisfied that they were offered the bank loan they wanted.
Click here to view the whole report from CreditSquare